Personal Umbrella Insurance
Trusted advice and insurance solutions to protect what matters most.
Personal Umbrella Insurance That Has You Covered
Personal Umbrella Insurance is critically important, yet remains one of the least understood of all insurance policies available. Umbrella policies are typically available in increments of $1 million, and are designed to provide coverage over and above that which is provided by other liability policies, such as home and auto insurance. And since the cost of an Umbrella policy can be as little as $150 to $200 per year, these policies are often referred to as "the most bang for your buck."
If insurance is for a rainy day, umbrella insurance is for a storm! A day when someone hits you with a lawsuit for hundreds of thousands, even millions, of dollars.
Think it can't happen to you? Do you know how lawsuit-crazy this country is? You can't pick up a newspaper these days without reading about somebody suing somebody else… for what? You read the article and say, "That's crazy. There's no way somebody should be able to sue for that."
Well, guess what? The courts are clogged with these "crazy" lawsuits, and sometimes the person bringing the lawsuit wins. Do you really need coverage for these crazy lawsuits? Maybe, maybe not… only you can best answer this question given your situation.
But remember that a lot of lawsuits aren't crazy at all. Some get settled. Actually, most get settled. Often, the person being sued winds up paying something to the person who brought the lawsuit. And that doesn't even include the fees the defendant in the lawsuit has to pay to his or her attorney.
How it works
Umbrella Insurance is a type of liability insurance, similar to the liability coverage provided by your homeowners, renters or condo insurance, rental dwelling, or the liability coverage provided by your auto insurance.
It's fitting then that Umbrella Insurance is designed to pick up where these policies leave off. For example, let's assume you have $500,000 liability coverage provided by your homeowners insurance policy. Sounds like more than enough coverage, right?
What if your dog happened to bite a young child, causing significant injuries that required extensive surgeries to repair the damage… is it reasonable to conclude that medical and legal expenses could exceed $500,000 or even $1 million? Without an Umbrella policy, you would be on your own for anything above the $500,000. With an Umbrella policy, coverage could pick up where the $500,000 provided by your homeowners policy leaves off.
Or how about a bad auto accident? Even exercising extreme caution, looking both ways at an intersection, accidents still happen. With sun in your eyes, it's not unrealistic to imagine the possibility of pulling out in front of a motorcycle. If you have the standard amount of coverage ($100,000 of coverage for injuries where you're at-fault), you could be left to pay a fairly hefty amount to the motorcycle operator. An Umbrella policy could help you in this type of situation.
There are numerous types of situations where an Umbrella policy can help cover the high price tag associated with a bad claim. Some Umbrella policies even provide coverage for claims that aren't covered by the underlying policies, such as:
False arrest
Libel
Slander
Invasion of privacy
But you may be thinking, "I don't have many assets to protect."
Let's face it, lawsuits happen. They're not always legitimate, but legitimacy is not a required component to filing a lawsuit (too bad, right?).
What types of lawsuits are being filed where Umbrella Insurance could help?
Lawsuits are most often filed for injuries or damages resulting from:
Home or auto accidents
Pets or children
Boating or recreational vehicle (ATV's, snowmobiles, etc.) accidents
Sports, non-profit or vacation activities
Rental houses or investment properties
Social media activities
When these types of lawsuits occur, they most often allege some type of injury, property damage, libel, slander or wrongful death. And regardless of the allegations or type of suit filed, massive legal expenses are all but guaranteed.
So what's at stake?
Well, if a claim occurs for which your insurance does not provide enough liability coverage to satisfy the judgment, you could end up losing the following:
Your home
Retirements funds
Investments
Savings
Future wages (yes, your future wages can be garnished to satisfy a judgment against you if your liability insurance is insufficient)
So if you're considering a $1 million Umbrella Policy, and you're saying to yourself, "but I don't have $1,000,000 in assets so I don't need an umbrella insurance policy," you're not alone.
This is one of the most common misconceptions in the insurance world. The liability coverage you have, whether it's your home, auto, rental dwelling, motorcycle, etc., has nothing to do with the value of your assets. Your liability insurance is to protect you for the amount of damages you cause, or that a judge and jury believe you caused.
You don't have to have $1,000,000 to be sued for $1,000,000.
Even a bachelor, living in a small apartment, driving the same 15-yearold sedan he did when he graduated from high school is at risk. While he may have very little in terms of accumulated wealth (no home, small savings account, modest investments), he very likely has a paycheck.
So, this bachelor has the potential, the opportunity, and the likelihood to accumulate assets over his entire working career. And he's one bad claim, one unfortunate car accident away from having his future wages garnished to pay for a lawsuit judgment.
How long do you think it would take to satisfy an $800,000 judgment?
Note: Just because this bachelor may not have enough existing assets to pay for the damages he caused, does not mean he's free & clear once all of his assets have been seized.
And if he knew as little as $15 a month could have provided him with $1,000,000 of coverage for that bad accident, what do you think his decision would be.
More importantly, what would your decision be?
For more information about Personal Umbrella Insurance, visit our Resource Center or contact one of our Licensed Advisors, we're here to help!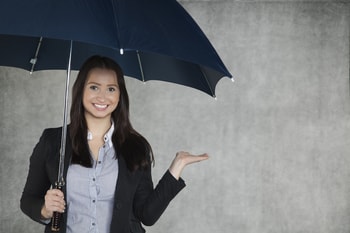 "I have been with CoverLink Insurance for over 20 years! Marilyn has always been available for any questions or urgent situations! When was the last time you called a business and an actual person answered the phone nowadays? CoverLink still understands the importance of personalized care. Thanks Marilyn and CoverLink for the awesome customer service!"
MELISSA PETERSON
Dublin, OH