Trusted advice and insurance solutions to protect what matters most.
Insuring your motorcycle is simple, whether you're riding a sport bike, big cruiser or custom bike. The key is to make sure you're protected before you hit the road. It's too easy to forget about your insurance when you're caught up in the excitement on the first ride of the season after your bike has been in the garage for three or four months. Work with a trusted insurance advisor to make sure you're covered, even for those few Spring-like days we have in February.
Fortunately, there aren't too many months in the year where you can't get out and enjoy a ride on your bike (as long as you don't mind bundling up for a few of those months). However, the sad part is, too many riders neglect to properly insure their motorcycle, which leaves them on the hook if their bike is damaged or worse, if they injure someone else.
The coverage on a motorcycle policy is very similar to that provided by your auto policy. There are six distinct coverage options. Some are required by law, others can be added at your discretion (for the most part).
Tip. Ask your agent about the different discounts available on your policy. Many insurance companies have substantial discounts, for example, if you have a good driving record.
Here are a few other discounts you could qualify for:
Have you completed a safety course? If so, make sure you have the name of the course you completed so you can tell your agent.
Are you riding your bike all 12 months of the year? If you live in Ohio, for example, probably not so ask about a lay-up discount.
Do you have more than one bike? Or maybe your auto and motorcycle insurance are with the same insurance company? Ask about multi-policy discounts
If you have questions or concerns about your motorcycle insurance, contact one of our Licensed Advisors, Resource Center. We're here to help!
To learn more about your insurance protection, visit our Resource Center.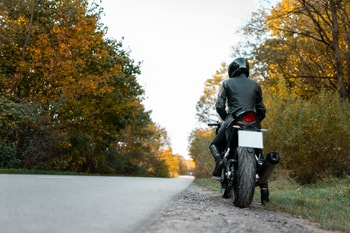 "I have been with CoverLink Insurance for over 20 years! Marilyn has always been available for any questions or urgent situations! When was the last time you called a business and an actual person answered the phone nowadays? CoverLink still understands the importance of personalized care. Thanks Marilyn and CoverLink for the awesome customer service!"
MELISSA PETERSON
Dublin, OH