Named Non-Owner Auto Insurance
Trusted advice and insurance solutions to protect what matters most.
Named Non-Owned Auto Insurance fills a very specific need. For example, ever find yourself in a situation where you don't actually own the vehicle you're driving on a regular basis (perhaps your only vehicle is a company car)? If so, have you ever asked yourself the question what happens when I'm driving someone else's vehicle – a friend, family member, etc. – do I have insurance? The named non-owned auto policy was specifically developed to address this concern.
Too often, when individuals don't own a personal vehicle, they believe they don't need auto insurance, which could certainly be the case if the individual does not have a drivers license and never operates a vehicle. But, that's usually not the situation. The most common scenario is that an individual has a vehicle provided by their employer, which the employer insures
(Tip: make sure your employer is actually insuring the vehicle you're driving)
on their Business Auto Policy.
Of course, this is great… while you're driving that one vehicle. But what happens when you hop in a friends car? Or if you go on vacation and rent a vehicle? If you don't have your own Personal Auto Policy, you likely have no coverage. You're probably asking, "if I don't own a car, how do I get an insurance policy to protect me?"
The answer is: the Named Non-Owner Auto Policy. It provides auto liability coverage for an individual who does not own a car but may operate borrowed or rented vehicles.
OK, so we can solve the problem of providing coverage, but is there really a need. Your next question might be "why would I purchase a Named Non-Owner Auto Policy if every vehicle I drive is insured by the owner?"
Again, if you know for a fact that every vehicle you will ever drive is properly insured, there's little need for you to purchase a Named Non-Owner Auto Policy. However, how likely are you to verify that every vehicle you ever drive is properly insured? Would you even remember to ask the question to the owner of the vehicle? And even then, how confident can you be that the answer you're given is entirely accurate?
Ultimately, the question becomes: Are you willing to risk your assets (home, vehicles, savings accounts, retirement accounts, future wages that can be garnished, etc.) and assume that any vehicle you ever operate is properly insured? If your answer is NO, the Named Non-Owner Auto Policy is your solution.
For more information about Named Non-Owner Auto Insurance, visit our Resource Center or contact one of our Licensed Advisors, we're here to help!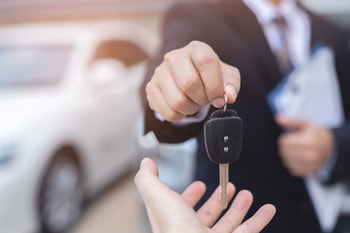 "I have been with CoverLink Insurance for over 20 years! Marilyn has always been available for any questions or urgent situations! When was the last time you called a business and an actual person answered the phone nowadays? CoverLink still understands the importance of personalized care. Thanks Marilyn and CoverLink for the awesome customer service!"
MELISSA PETERSON
Dublin, OH