Trusted advice and insurance solutions to protect what matters most.
If you're like many pet owners, you consider your animals members of the family—their quality of life and health are extremely important. Should your beloved four-legged family member become ill or get hurt, your first stop is the veterinarian. Although their expertise is invaluable, it can also be quite costly. By purchasing pet insurance, you won't be burdened with veterinary bills and can focus on making sure your pet is healthy and happy.
What is pet insurance?
Pet insurance frees you from financial stress when choosing the best available veterinary care for your pet. Pet Insurance:
Covers unexpected illnesses and injuries of your dog or cat.
Allows you to visit any licensed veterinary practice, emergency hospital or specialist in the US, Canada or Puerto Rico.
Offers three flexible plans that can be customized to meet your budget and coverage needs. Allows for reimbursement of up to 100% of your actual vet bill with options for unlimited annual benefits.
What is covered?
Animals' medical problems can be similar to those of their owners. They might visit the veterinarian for issues including the following:
Accidents
Illnesses
Routine preventive care
Lab work
X-Rays
Surgeries
Diagnostic testing
Prescriptions
Steep costs
Medical costs for your pets can add up quickly. Here are some of the most common veterinary treatments whose costs can range from hundreds to thousands of dollars:
Dog involved in a motor vehicle accident
Dog or cat ingesting a foreign object
Dog cancer treatments
Dog bladder infection
Dog hip dysplasia
Cat fractured leg
Cat pneumonia
Cat diabetes
How does pet insurance work?
Pet insurance works on a reimbursement model. You can customize and purchase the plan that suits your pet and seek the best veterinary treatment for your pet when an accident or illness occurs. In addition, you can submit the paid veterinary bills through a Pet Cloud app and follow your claim status and get paid electronically (via direct deposit).
Why do I need pet insurance?
We believe the best medical care for our pets should be an automatic "yes," without hesitation. Did you know:
1 in 3 pets need emergency vet treatment each year.
More veterinary specialists and advanced treatments are available today.
Advanced pet medical care often costs thousands of dollars.
Our plans average less than $1.50 per day.
We can help
Your pet's health can be quite expensive to maintain. Don't take the chance of not being able to afford to provide medical care for your furry family members. Contact CoverLink Insurance today to learn more about all of our insurance solutions.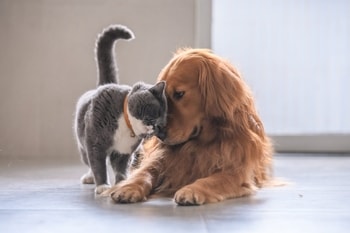 "Thanks to the team at CoverLink for your dedicated, personal service in providing my insurance solution. Your professional staff made the process quick and easy and provided superior coverage for my needs at a reasonable price."