Trusted advice and insurance solutions to protect what matters most.
Many consumers make the mistake of believing their boat, and their liability for injuries to others while operating their boat, are covered by their homeowners or renters policy. While there are limited situations where damage to your boat might be covered by your homeowners policy, you would be best served to speak with an Insurance Advisor about your coverage needs if you own a boat.
They're called pleasure boats or pleasure crafts, but, let's face it, sometimes they're a "pain." They can be an expensive habit, to say the least – and potential danger comes with the pleasure.
They are, after your house and maybe your car(s), probably your most valued asset. You can choose to own and operate a boat, yacht or Jet Ski without insurance (although some marinas and yacht clubs won't let you dock your craft unless you have coverage). That wouldn't be a very smart choice, however.
Note. If you have a homeowner's insurance policy, you may have some coverage for your watercraft, but it is very, very minimal. A typical homeowners policy will pay as much as $1,000 to repair damage to your boat, but – guess what? – that damage has to occur while the boat is at your home. This is not exactly the kind of damage coverage you need. In addition, there may be some liability coverage. Some, but hardly enough.
You can gamble and forego insurance for your watercraft, but it is a big gamble. You're risking not only losing or severely damaging the boat in an accident without compensation, but possibly your other assets if your boat causes damage and/or injuries to other boats and/or boaters.
For more information about Boat Insurance, visit our Resource Center or contact one of our Licensed Advisors, we're here to help!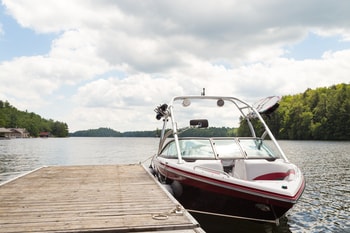 "Whenever I see the staff out in public, they greet me as if I'm one of the family. I'm always encouraging my friends
and family to give CoverLink Insurance a call for service. Keep up the good work."
ERIC DESLANDES-MCKOY
Urbana, OH