2011 has certainly been a turbulent year when it comes to the number of severe weather events we've experienced.
Tornadoes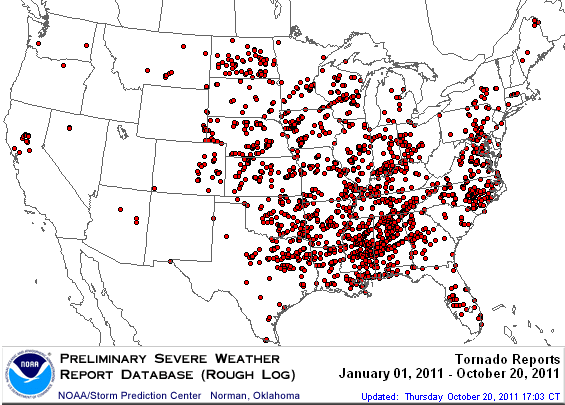 Consider the number of tornadoes in the United States from January 1, 2011 through October 20, 2011:  it stands at 1,820.  Tragically, these tornadoes have killed more than 537 people – mostly in Tuscaloosa, Alabama and Joplin, Missouri.
The map to the right shows the location (in red) of each reported tornado in the United States so far this year. Ohio doesn't look too bad in comparison to the many of the southern states.
Hail Storms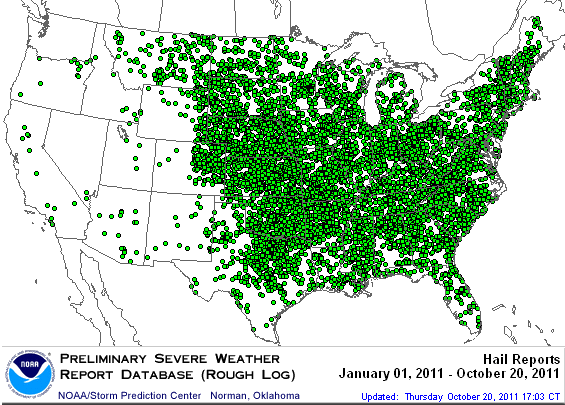 The results are even worse when looking at the number of reports for large hail storms over the same period of time:  9,317.  These storms have caused extensive damage to homes, businesses and vehicles.
The map to the left pinpoints (in green) the locations for the reported hail storms, as determined by the NOAA Storm Prediction Center.
Unfortunately, Ohio has been hit very hard by these hail storms causing millions of dollars of insured losses.  Combine this with several consecutive years where many insurance companies have been unprofitable and the only logical conclusion is that home and other property rates will be increasing.
Severe Windstorms
Perhaps one of the most surprising statistics is the number of severe wind storms that have caused serious losses to many homes and business owners.   The number of wind damage reports through October  20, 2011 is 18,356.
The map to the right shows the reported wind claims in blue.
These windstorms have been so frequent that nearly the entire State of Ohio has been impacted, again, causing millions of dollars in insured claims.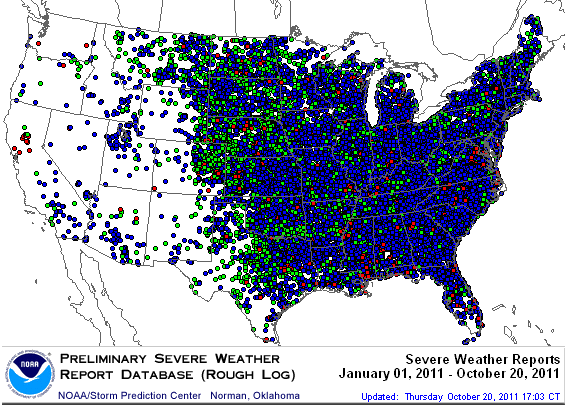 Adding it all up, there have been 29,493 severe weather reports through October 20, 2011.  The map to the left, perhaps, tells the story best.  This depiction shows all the reported tornadoes, large hail storms and severe wind damage storms through October 20, 2011.  With the exception of a small area in Southern Florida, the entire Midwest and Eastern part of the United States has been hit by severe weather related losses.
You might be wondering, how will this impact me?  My homeowners insurance?  What I'm paying?  Keep in mind, the whole idea of insurance is to spread the risk of loss over a large number of people.  If everyone pays a small amount (the premium) for a significant amount of coverage (the replacement value of your house, for example) then when a small number of people experience a loss, they can be made whole again.
What is unique about 2011 is that such a huge number of people have been hit with some type of weather related claim.  Through June of 2011, there have been more than $17.3 BILLION in claims associated with catastrophe losses.  This number exceeds the amount for the entire 2010 year.  With so many claims being filed, insurance companies have no alternative but to begin increasing the premiums they charge.
What You Can Do:
While you can't control the weather, there are steps you can take to help prepare for the inevitable changes.  No homeowner should leave their insurance renewal to chance.  There are simple, proven strategies you can use to make sure you're ready for your home insurance renewal.
If you would like to receive my report 6 Steps to Prepare for Your Home Insurance Renewal, simply click below.  This report, a $97 value, is offered to clients of H&H at no cost.