If you live in Ohio, then you know all too well that the winter weather can be unpredictable.
And if you provide snow removal services, then you must always be prepared during the winter months for severe weather to strike.
Your clients rely on you to have their driveways, parking lots or streets cleared of snow and ice so they can open and conduct business as usual.
And you rely heavily on your trucks and equipment to meet all the needs of your clients.
Because your tools and equipment are so essential to your business, which really translates to your reputation, it's important to make sure that you have the right protection before a loss occurs that could force you to slow down, or worse, close your business.
Like any other business, if you provide snow removal services, you need a variety of insurance coverages to ensure your operation is protected.
Additionally, rules and coverages can vary from state to state, so understanding Ohio Snow Removal Insurance is essential.
Commercial General Liability Insurance
If you run a snow removal business, then a Commercial General Liability (CGL) insurance policy is a must, as it would protect when lawsuits or financial losses occur.
A typical CGL policy provides coverage for claims of bodily injury or other physical injury, personal injury (libel or slander), advertising injury and property damage as a result of your products, premises or operations.
For example, imagine you're hired to plow the parking lot for a doctor's office, which of course you do, but later that day, an expecting mother slips & falls on her way in.  She blames her doctor's office for the slippery conditions, and the business turns to you alleging you failed to fully perform the job you were hired to do.
Could you be held liable?  If yes, what type of legal costs and judgments could you ultimately be facing?
This is a good example of why you need Commercial General Liability coverage.  The right policy would protect you by providing coverage for your legal defense, as well as a judgment rendered against you.
As a safeguard against liability, CGL enables you to continue your normal operations while dealing with real or fraudulent claims of negligence or wrongdoing. CGL policies also provide coverage for the cost to defend and settle claims.
Commercial Auto Insurance
Commercial Auto Insurance is another important policy that all Ohio snow removal businesses must consider because using your vehicle to plow snow is the bread and butter of your business. Doesn't matter if you have one truck, or a fleet of 100, you still need Commercial Auto Insurance.
And, because you're relying on vehicles to do your job, most often in less than ideal driving conditions, you're exposed to a great deal of risk.
A Commercial Auto Policy could be used to cover any vehicle that you use for work-related purposes and your snow plow could be included.
In addition, it can be used to insure vehicles for:
Liability – this would protect the business owner in the event of an at-fault accident where the owner, or any employees, caused injuries to others while driving a company vehicle
Physical damage to the vehicles owned by the business if they're involved in an accident, stolen or vandalized
Or both Liability and Physical Damage
For example, if you're plowing snow and the slippery conditions cause you to slide into another vehicle, you would be covered whether it was your fault or not. Further, your Commercial Auto policy would cover any property damage, medical expenses and any potential legal costs involved.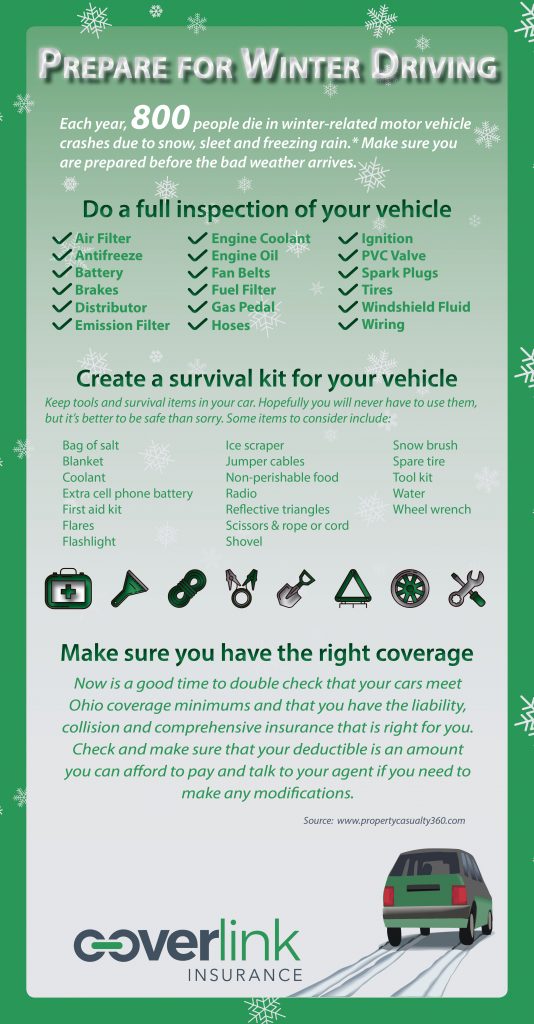 Conclusion
Finding the best insurance policy for snow removal businesses in Ohio, and figuring out the types of coverage needed to protect your business, can be confusing, time consuming and difficult.
However, the right insurance protection is still critical to the success of your business.  Without it, you're one claim away from being out of business.
And remember, not all policies are created equal.
You probably wouldn't go to your eye doctor instead of your dentist if you were having a toothache, right?  Just because they're both doctors doesn't mean they have the same skillset.
Just the same, you need an Insurance Advisor that understands your industry, your risks of loss, and how best to protect you and your business.
We can help.
We know the industry, we understand your needs, and we work with multiple insurance companies so we can deliver the insurance solution that's perfect for your business, and your budget.
When you have confidence in your business insurance, you have greater peace of mind knowing that you can keep working to generate revenue, even when disaster strikes.
To get started on your customized solution, contact one of our Licensed Advisors, or Request a Proposal and we'll get to work right away.