The temperature is rising and the sun is shining.  But before you put your boat in the water, get your motorcycle out of storage, or make big vacation plans, contact your insurance advisor to make sure you're properly protected.
We've gathered a list with tips and coverages for you to review to make sure you and your family are insured for the increased risks that come with outdoor and summer activities.
ATV Insurance (covers UTVs, 3-wheelers & 4-wheelers)
Ohio is home to over 89 beautiful ATV trails, resorts and parks enjoyed by residents all over the state. ATVs are fast and fun, but they can be dangerous, especially when young, inexperienced riders take to the trails.
If your ATV is involved in an accident, you may be financially responsible for the rider's medical bills and other damages, as well as repairs to your ATV. An Ohio ATV insurance policy can protect you from the cost of damage and litigation.
All-terrain vehicles (ATVs) are not covered by standard automobile insurance policies, however, your homeowner's policy might partially cover your liability on an ATV. Ask your insurance advisor or company if this coverage is enough to protect you and your family. You might want to consider a separate ATV policy to make sure you're properly insured.
Questions to ask your agent:
Are there age restrictions on who may operate the ATV?
Does my policy cover friends or family who are operating the ATV?
Is there a discount for taking an operator safety course or for riding with a helmet?
Boat and Personal Watercraft Insurance
Many Ohio residents make the mistake of believing their boat, and their liability for injuries to others while operating their boat, are covered by their homeowners or renters policy.  While there are limited situations where damage to your boat might be covered by your homeowners policy, you would be best served to speak with an Insurance Advisor about your coverage needs if you own a boat.
Personal watercraft (PWC) coverage (often referred to as Boat Insurance) may cover the following:
Bodily injury to yourself, another rider, or a swimmer injured in your path (this is arguably the most important coverage because the damage amount is unknown, but can be significant if someone is seriously injured… work with your Insurance Advisor to make absolutely certain you have enough liability coverage)
Property damage to items such as docks, other PWCs or boats
Guest passenger liability
Medical payments
Theft of your boat
A typical policy will include a $250 deductible for property damage, $500 for theft and $1,000 for medical payments.
Liability can be as low as $25,000, and can increase to $300,000, $500,000, or higher to provide you and your family the financial protection you need in case your PWC is involved in an accident.
In addition, most policies include water sports liability coverage, which provides protection when you engage in sporting activities such as waterskiing, knee boarding or tubing.
Flood insurance

Flood Insurance in Ohio is a relatively simple policy; it only provides coverage for losses resulting from a flood.
Nationwide, it's estimated that only 20% of American homes at risk of a flood actually have flood insurance.  Potentially more alarming is that according to The National Flood Insurance Program, nearly 20% of flood insurance claims come from moderate to low-risk areas.  The fact is, very few of us are immune from the risk of a flood causing significant damage to our property.
Many Ohioans believe coverage for losses caused by flood are covered under their homeowners, renters, or condo insurance policy… unfortunately, they're not.  Losses caused by a flood are customarily excluded on these policies.
Luckily, flood insurance is available in the State of Ohio.  The state is divided into floodplains (essentially, how likely a certain area is to flood), and those areas more prone to flood are likely to purchase flood insurance.  However, the Ohio Insurance Institute estimates that only 10% of the structures in Ohio's floodplains are protected by flood insurance.
Tip.  Find out what floodplain you're in.  Many people don't realize how susceptible their property is to flood. And remember, we're all in a flood zone… it's just a matter of how likely our property is to flood.
If you determine you need flood insurance, there are several options available to you:
Coverage for homeowners to protect their house and their personal property.
Coverage for renters so they can protect their personal property.
Condominium unit owners can purchase coverage to protect their condo and their contents (but check your condo contract, your association might already have purchased flood coverage)
Flood insurance is provided by the National Flood Insurance Program so there are standard restrictions and guidelines when it comes to purchasing a policy.  Make sure you talk to an experienced insurance agent that can help you purchase the policy that's best for you.
Golf Cart Insurance
Golf carts are a popular recreational vehicle both on and off the golf course. Coverage for personally-owned golf carts under the homeowners and auto policies is typically only provided by endorsement.
Golf carts that are regularly used off premises may require a separate policy, or may be added to your personal auto policy as a recreational vehicle.
Be sure to discuss your coverage options with an experienced insurance advisor.
Questions to ask your agent:
Are golf carts permitted on public roads if this is their primary use?
Are they required to be registered?
Are there age restrictions on who may operate the golf cart?
Motorcycle Insurance
Insuring your motorcycle in Ohio is simple, whether you're riding a sport bike, big cruiser or custom bike.  The key is to make sure you're protected before you hit the road.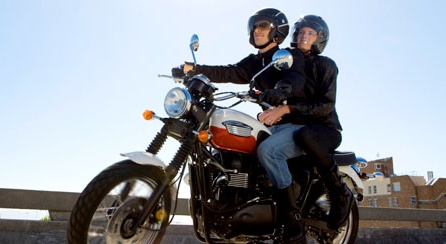 It's too easy to forget about your insurance when you're caught up in the excitement on the first ride of the season after your bike has been in the garage for three or four months.
The coverage on a motorcycle policy is very similar to that provided by your auto policy.  There are six distinct coverage options.  Some are required by law in Ohio, others can be added at your discretion (for the most part).
Tip. Ask your agent about the different discounts available on your policy.  Many insurance companies have substantial discounts, for example, if you have a good driving record.
Here are a few other discounts you could qualify for:
Have you completed a safety course?  If so, make sure you have the name of the course you completed so you can tell your agent.
Are you riding your bike all 12 months of the year? If you live in Ohio, probably not so ask about a lay-up discount.
Do you have more than one bike? Or maybe your auto and motorcycle insurance are with the same insurance company? Ask about multi-policy discounts.
Pool Insurance
Backyard swimming pools are a great place to spend time with friends and family to beat the heat during the hot Ohio summer months.  Whether you have an in-ground pool, or plan to blow up an inflatable kiddie pool this summer, it comes with great responsibility.
Let your insurance company know that you have a pool, since it will increase your liability risk. Also, be sure to ask if your homeowner's policy specifies any safety guidelines you are required to follow, such as installing a certain height fence or locked gate for example.
An insurance company can deny coverage or cancel your policy if you do not follow the safety guidelines, or do not inform the company when you install a pool.
Check with your insurance agent for rates and safety guide­lines before installing one.
Having a pool puts you at increased risk for liability losses. You may also want to consider purchasing an um­brella policy to provide liability coverage above what your homeowner's policy offers.
Rentals
For some of us, renting our summer fun is the way to go. But rentals also carry their own set of insurance risks and exposures.
Motor Homes
Most standard personal auto policies don't provide coverage for damage to a rented motor home. While liabil­ity coverage for personal use might be provided, considering the size of a motor home and the potential damage they can cause, the liability limits on your personal auto policy may be not be enough.
Rental Cars
Car rental companies offer optional insurance coverage called Collision Damage Waiver to protect you from fi­nancial responsibility should the vehicle be stolen or damaged while under your control. Personal liability, bodily injury, and property damage would still be covered under your personal auto policy.
Travel Insurance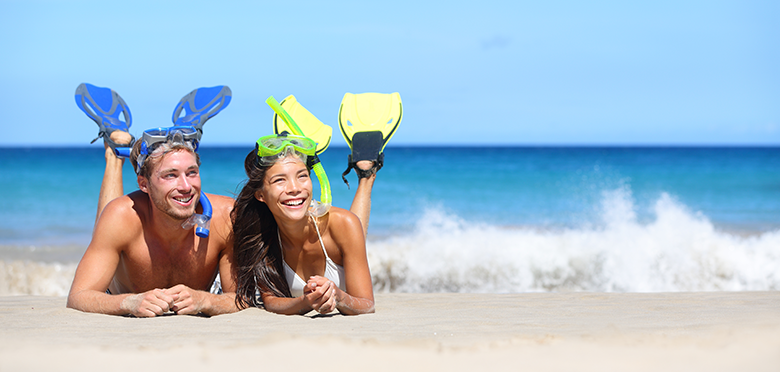 Whether you're leaving home for a weekend getaway or a long road trip, be aware of what your homeowners or renter's policy will cover while you're gone.
Typically, your homeowners insurance will follow you, protecting you even while you're not at home. Off-premises' coverage means your belongings are covered anywhere in the world.
If you're staying at a hotel and your belongings are stolen, your homeowners policy can provide coverage. But, the exact coverage depends on your policy. In addition to your deductible, items will typically have a limit on things like jewelry. If you're traveling with high-priced items, it's a good idea to get separate insurance coverage for these items.
Contact your agent or insurance company to find out what's covered under your policy.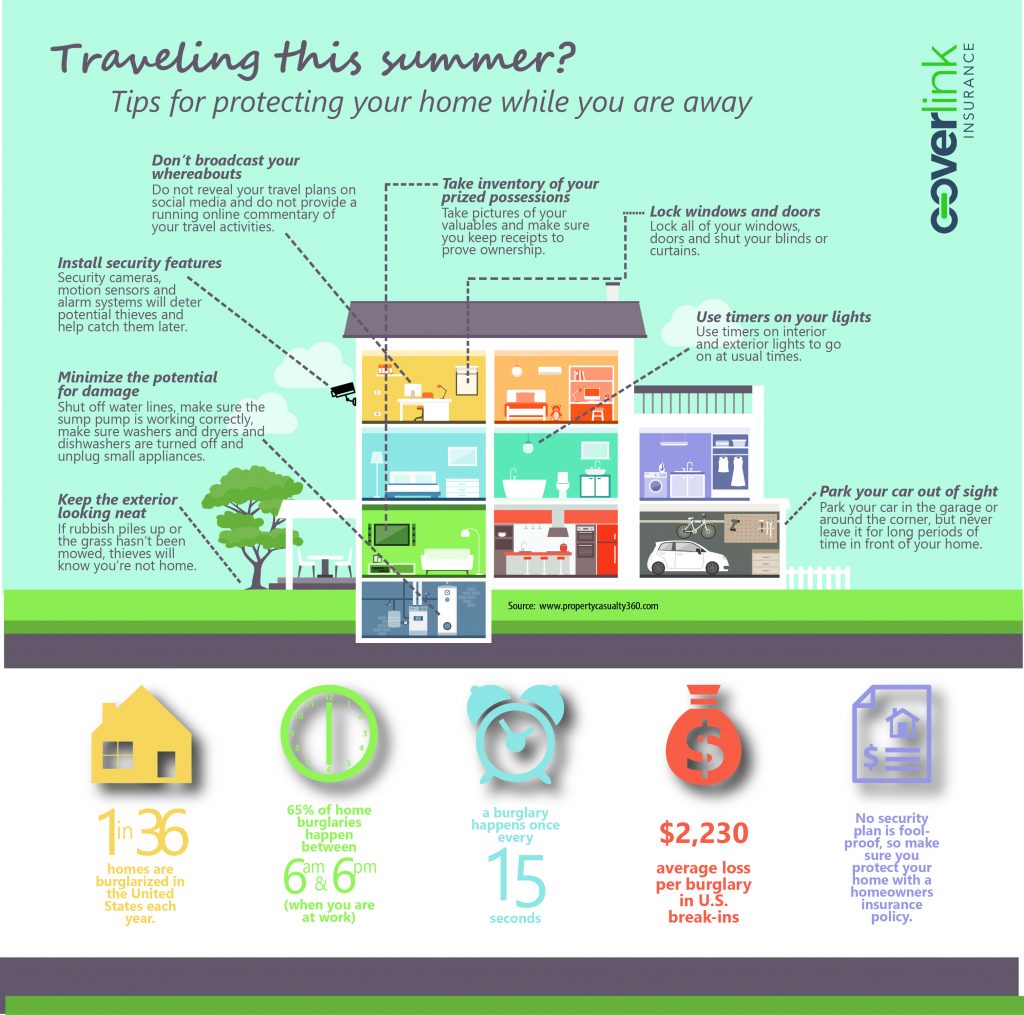 Umbrella Insurance
One of the most important policies that will cover many of your summer activities is an Umbrella Insurance policy.
Do you have a backyard playground or a trampoline that all the neighbor kids will be playing on?  If so, you should seriously consider an Umbrella policy… in addition, head over to Consumer Affairs for more information on The 10 Best Rated Backyard Swings & Playsets.
What about a garage sale to get rid of all those items that have been accumulating in your house for months?
Do you own a pet and have you considered the consequences if it bit someone?
What about coverage for damages resulting from boating or recreational vehicles, sports or vacation activities or rental houses and investment properties.
Umbrella Insurance in Ohio is critically important, yet remains one of the least understood of all insurance policies available.  Umbrella policies are typically available in increments of $1 million, and are designed to provide coverage over and above that which is provided by other liability policies, such as home and auto insurance.  And since the cost of an Umbrella policy can be as little as $150 to $200 per year, these policies are often referred to as 'the most bang for your buck.'
Umbrella Insurance is a type of liability insurance, similar to the liability coverage provided by your homeowners, renters or condo insurance, rental dwelling, or the liability coverage provided by your auto insurance.
It's fitting then that Umbrella Insurance is designed to pick up where these policies leave off.  For example, let's assume you have $500,000 liability coverage provided by your homeowners insurance policy.
Sounds like more than enough coverage, right?
What if your dog happened to bite a toddler during a garage sale you were hosting, causing significant injuries that required extensive surgeries to repair the damage?
Or a young child fell from your backyard play area and was taken to the hospital for injuries?
If any medical and legal expenses exceeded $500,000, you'd be on your own.. With an Umbrella policy, coverage could pick up where the $500,000 provided by your homeowners policy leaves off.
There are numerous types of situations and summer activities where an Umbrella policy could help cover the high price tag associated with a bad claim. Check with your agent to determine what coverages will be under your homeowners policy and consider adding an umbrella insurance policy to provide additional coverage.
Rest easy this summer
When you live in Ohio, you're so appreciative of the warm summer months. It's a time for family and friends, relaxation, travel, parties and more. Don't let an accident or mishap take away your peace of mind.
We're here to help. We will be happy to review your current coverages and discuss any potential risk areas that you may have.