Notice I said 'when' and not 'if' because for businesses operating in today's digital world, a cyber attack or data breach is inevitable.
For years now, security professionals have been saying there are two types of businesses in operation today:
Those who have been the victim of a data breach
And those who have been victim of a data breach and just don't know it
Which one are you?
It's time to face it – data breaches are a fact of life, along with taxes and death.
So how can businesses better manage their risks related to a data breach, and position themselves to recover from the significant costs that can result?
The best approach is twofold:
Implement & deploy the adequate security measures that are appropriate for your business and its size – the goal here is to minimize the risk of a cyber attack or data breach
Work with your Insurance Advisor to structure a Cyber Liability Insurance policy that will respond to the significant costs, fines and loss of income your business would suffer as a result of a cyber attack or data breach
Why Cyber Liability Insurance?
As technology becomes increasingly important for successful business operations, the value of a strong Cyber Liability Insurance policy will only continue to grow.
The continued rise in the amount of information stored and transferred electronically has resulted in a remarkable increase in the potential exposures facing businesses.
In an age where a stolen laptop or hacked account can instantly compromise the personal data of thousands of customers, or an ill-advised post on a social media site can be read by hundreds in a matter of minutes, protecting yourself from cyber liability is just as important as some of the more traditional exposures businesses account for in their General Commercial Liability policies.
Cyber insurance typically reimburses the costs you incur in the event of a data or information breach, as well as any costs incurred while getting your business back up and running.
Costs vary considerably depending on the circumstances, the types of perils involved and the extent of the damage caused.
Here are five ways that Cyber Liability Insurance can support your business when you're attacked:
1. Lost revenue
Expenses from a cyber-attack can quickly add up:
Internal audits may need to be conducted
Hardware and software upgrades may need to be installed
Forensic examiners may need to be hired
Lawyers, security consultants and public relations firms will all be necessary
And let's not forget the expense of credit monitoring that companies need to provide their affected customers.
It's difficult, and expensive, to figure out what happened, how it happened, when it happened and where you go from here.
Dedicating resources to this process can become extremely costly and most small businesses aren't equipped to handle it on their own, requiring outside assistance. Those costs would quickly add up and could be devastating to your business.
A Cyber Liability policy can help pay for any expenses related to the breach, including lost income or profits that would have been earned had the event not occurred.
2. Investigation of the attack
When your business is the victim of a data breach, you will need to investigate the attack to find out what happened, how much data was accessed and ensure that it doesn't happen again.
This process can become extremely costly and most small businesses don't have the experience or resources to conduct such an investigation.
You many need to hire IT security consulting experts to help trace the attack and preserve evidence. You may also need to hire forensic computer experts to assist with the investigation, response and remediation of the security breach.
A Cyber Liability policy could cover these expensive costs, and allow you to dedicate your resources elsewhere.
3. Customer notification
The current regulatory framework in the United States does not provide a national uniform data breach notification standard, which has caused the individual states to implement their own.
These generally require businesses that lose sensitive personal data to provide written notification to those individuals that were potentially affected by a breach.
Companies not only need to be aware of any applicable laws in their state, but they need to go through the process of notifying customers in the event of a breach. This process can become confusing, timely and costly to a small business.
A Cyber Liability policy could help in covering those expenses, even if a breach notification is not legally required. It could also provide some assistance in navigating the complicated notification laws.
4. Credit monitoring for affected customers
In addition to customer notification laws, increased government regulations have placed more responsibility on companies to protect clients' personal information. These laws specify obligations of the company to provide credit monitoring or other protection to any affected customers.
For example, recently a large healthcare provider reported that due to a data breach, they would be providing credit monitoring and identity theft services to over 600,000 individuals for two years. The total costs to the provider were in the tens of millions and it was all due to a network security failure.
If any sensitive customer information is accessed during a breach, a Cyber Liability policy could help cover the expensive costs of credit monitoring.
5. Crisis and reputation management
Any business lives and dies by its reputation. Although there are certain reputation risks that cannot be insured, you can insure your reputation in the event of a security breach.
And the process of maintaining or rebuilding your reputation after a cyber attack or data breach is becoming increasingly costly as consumers demand better protection of their sensitive data.
When your systems have been compromised, you run the risk of losing the trust of your loyal customers, which can harm your business far more than the immediate financial loss.
For example, if your business needs to hire a public relations firm to assist in the process of maintaining or rebuilding your reputation, a Cyber Liability policy can cover those costs.
Cyber Liability Insurance is specifically designed to address the risks that come with using modern technology; risks that other types of Business Liability Insurance coverage simply won't.
Curious about what you can do to prevent Cyber Crime?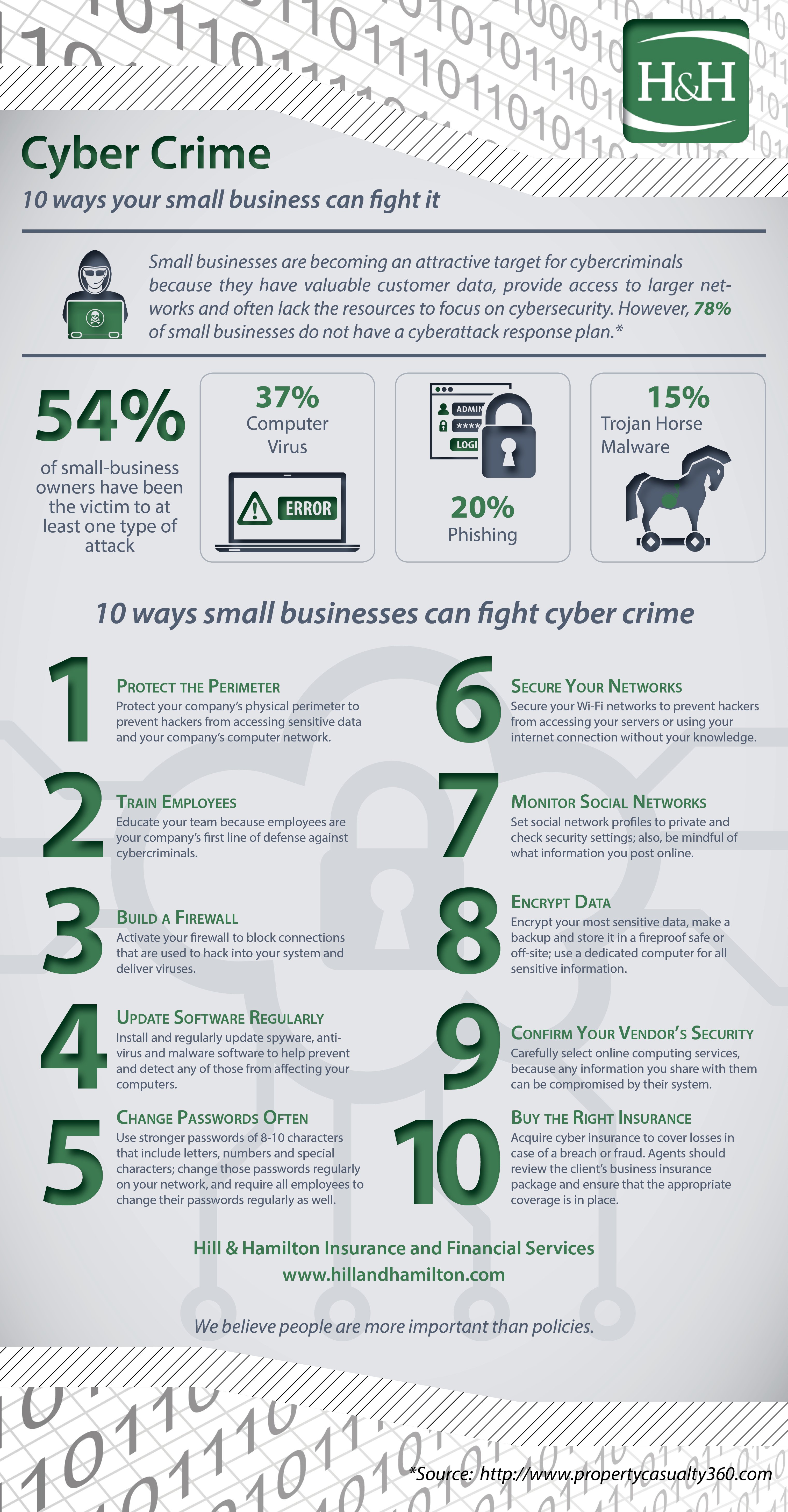 The level of coverage your business needs is based on your individual operations, and can vary widely depending on your range of exposure. It's important to work with an Insurance Advisor that can identify your areas of risk, and customize a policy to fit your unique situation.
If you'd like additional information and resources, we're here to help you analyze your needs and make the right coverage decisions to protect your operations from unnecessary risk.  You can download a free copy of our eBook, or if you're ready to make Cyber Liability Insurance a part of your insurance portfolio, Request a Proposal and we'll get to work for you.