It's hard to turn on the news anymore without hearing about another organization that was the victim of a cyber attack.
From Sony to the head of the CIA, it seems that no target is too big.  And unfortunately, the truth is that no target is too small either.  Just because you're a small business does not provide you immunity.
Small business owners are affected by cyber security risks every day – whether it's an embarrassing post on a social media account, or an attack that leaks the private and confidential information of thousands of clients.
Hackers can easily cost business owners their life savings, or worse, put them out of business.
While it may seem costly to purchase a Cyber Liability Insurance policy, the true cost would come in the event of a breach where you didn't have coverage.
You've invested your life's work into your business, so investing in your business' future with a Cyber Liability policy should be a no-brainer.
Need more information?
Here are 10 reasons, brought to you by the cyber risk experts at CFC Underwriting, why a cyber liability policy is an investment in your business:
1. Data is one of your most important assets, yet it's not covered by General Commercial Liability insurance policies.
A vast amount of information is now stored on computer servers and databases, and it's growing every day. Most businesses would agree that data is one of their most important assets, which is why hackers are constantly looking for ways to steal or destroy it.
In most cases, data is worth far more than the physical building or equipment of a business. However, most businesses do not realize that their General Commercial Liability policy will not cover that data if it's lost, stolen or destroyed.
A cyber liability policy can provide comprehensive coverage for data restoration and rectification costs in the event of a loss.
2. Systems are critical to operating your day-to-day operations, yet their downtime is not covered by standard Business Interruption insurance.
If your primary business operations require the use of computer systems, a disaster that cripples your ability to transmit data could cause you, or a third party that depends on your services, to lose potential revenue.
From a server failure to a data breach, such an incident can affect your day-to-day operations. Time and resources that normally would have gone elsewhere will need to be directed towards the problem, which could result in further losses.
For example, a hacker could administer a malicious code, virus or worm onto your business' system that deletes critical information on the hard drive. As a result, your business is unable to perform normal business operations.
A cyber liability policy will help pay for any expenses related to that interruption, including lost income or profits that would have been earned had the event not occurred.
The standard Business Income (or Business Interruption) Insurance policy would not provide coverage in this type of claim.
3. Cyber-crime is the fastest growing crime in the world, yet most attacks are not covered by general commercial liability or crime insurance policies.
Cyber-crime is the fastest growing area of criminal activity in the world – and everyone online is a target. In today's world, the reality is that all individuals and organizations that are connected to the internet are susceptible to some form of cyber-crime. The number, the type and the sophistication of attacks continue to rise, and no individual or organization is immune.
Phishing scams, identity theft and telephone hacking are all crimes that traditional insurance policies do not address.
Cyber insurance can provide comprehensive coverage for a wide range of electronic perils that are increasingly threatening the financial resources of today's businesses.
4. Your reputation is your number one asset, so why not insure it?
Any business lives and dies by its reputation. Although there are certain reputation risks that cannot be insured, you can insure your reputation in the event of a security breach.
And the process of maintaining or rebuilding your reputation after an attack could be extremely costly.
When your systems have been compromised, you run the risk of losing the trust of your loyal customers, which can harm your business far more than the immediate financial loss.
For example, if your business needs to hire a public relations firm to assist in the process of maintaining or rebuilding your reputation, a cyber liability policy can cover those costs.
5. It's not just big corporations that are being targeted by cyber-criminals, but small ones too.
High-profile cyber-attacks on companies like Target have generated national headlines and raised awareness of the growing threat of cyber-crime. As a result, more and more large companies are getting serious about data security, making small businesses more attractive targets – and the results are often devastating for small business owners.
In recent years, nearly 60% of the small businesses victimized by a cyber-attack closed permanently within six months.
The reason?
Many businesses put off making necessary improvements to their cyber-security protocols until it was too late because they were concerned the costs would be prohibitive.
A cyber liability policy would help prepare for a cyber-attack and would cover the costs if it occurred, typically for a fraction of the cost necessary to deploy robust data security measures.
6. Complying with breach notification laws costs time and money.
The current regulatory framework in the United States does not provide a national uniform data breach notification standard, which has caused the individual states to implement their own.
These notification standards generally require businesses that lose sensitive personal data to provide written notification to those individuals that were potentially affected by a breach.
Companies not only need to be aware of any applicable laws in their state, but they need to go through the process of notifying customers in the event of a breach. This process can become timely and costly to a small business.
A cyber liability policy could help in covering those expenses, even if breach notification is not legally required.
7. Third-party data is valuable and you can be held liable if it's accessed or lost.
Businesses hold more data than ever before, which often belongs to customers and suppliers.  Non-disclosure agreements and commercial contracts often contain warranties and indemnities in relation to the security of this data that can trigger expensive damages in the event that you experience a breach.
For example, if an email sent from your server has a virus that crashes the system of a customer, or the software your company distributes fails, resulting in a loss for a third party, you could be held liable for the damages.
8. Retailers can face severe penalties if they lose credit card data.
Global credit card crime continues to rise and increasingly the risk is being transferred to the retailers that lose that data.
For example, under merchant service agreements, compromised retailers can be held liable for forensic investigation costs, credit card reissuance costs and the actual fraud conducted on stolen cards.
These losses can run into hundreds of thousands of dollars for even a small retailer. Cyber liability insurance can help protect against all of these costs.
9. The use of portable devices continues to increase, as does the risk of loss or theft.
Portable devices have made life a lot easier for many of us, as they provide flexibility and allow us to work away from the office. However, this new style of working also means that important and confidential data can be stolen or lost much more easily.
For example, a regional retailer contracted with a third party service provider. A burglar stole two laptops from the service provider containing the data of over 1,000 clients of the retailer.
According to applicable notification laws, the retailer – not the service provider – was required to notify the affected individuals.
The retailer was required to pay the expenses for the notification and the crisis management, but a cyber liability insurance policy would have covered these costs.
10. Claims are on the rise, stemming from social media.
Social media is the fastest growing entertainment channel in the world. Information is exchanged and exposed at lightning speed. However, there is often little control over what is said and how it's presented.
For example, an employee could post sensitive information on a website like Facebook and the business would be liable for that leaked information, defamatory statement or copyright infringement. Cyber liability can help provide coverage for any claims arising from this employee's actions.
Curious about what you can do to prevent Cyber Crime?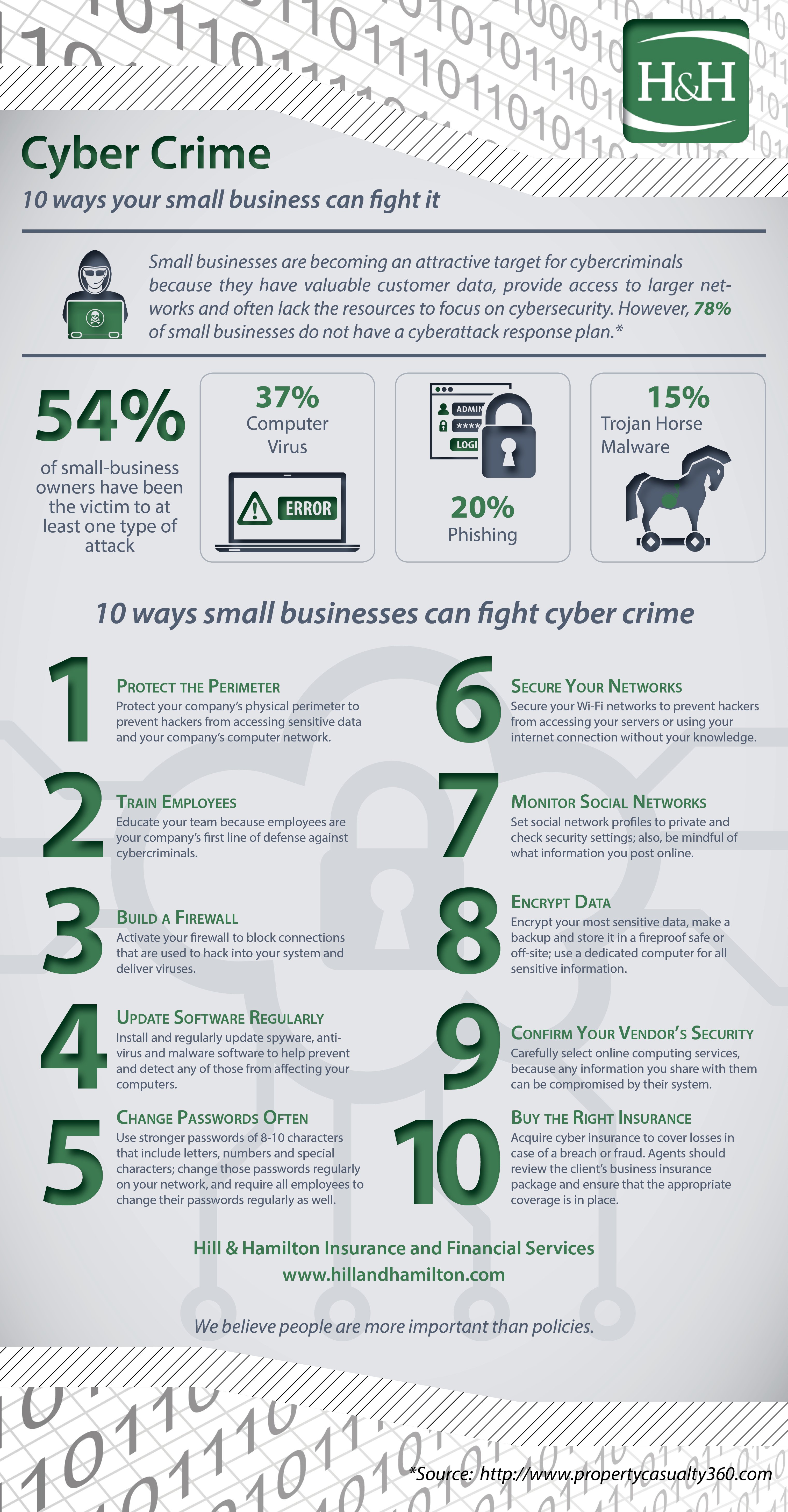 Conclusion
Despite significant cybersecurity exposures, many small business owners believe their company is safe from hackers, viruses, malware or a data breach.
This disconnect is largely due to the widespread, albeit mistaken, belief that small businesses are unlikely targets for cyber-attacks. In reality, data thieves are simply looking for the path of least resistance.
Given today's technology and the risks your business faces, there's a better than average chance that you're more likely to experience a cyber-attack or data breach, than you are to suffer a loss that's covered by any of the other insurance policies you already have in place.
Don't let a hacker destroy your life's work. Invest in what you've worked for; invest in your business by protecting it with a Cyber Liability Insurance policy.
If you'd like additional information and resources, we're here to help you analyze your needs and make the right coverage decisions to protect your operations from unnecessary risk.  You can download a free copy of our eBook, or if you're ready make Cyber Liability Insurance a part of your insurance portfolio, Request a Proposal and we'll get to work for you.