Pictured above from left to right:  Andy Neer, Arden Neer Jr., Gina Loehr & Tom Simon
Our latest customer spotlight, Arden Neer Jr. and Andy Neer, both owners at Neer's Sand & Gravel sat down with us recently and WOW did we have a good time! We talked about family, the history of their business, how long our two companies have worked together and shared a lot of memories and laughs.
These two brothers, and third generation owners, are a shining example of what it means to be in a family business. Their grandfather, Ezra Neer started the business in 1927 – during a depression no less – and much of the culture and values that he instilled continue to flourish today thanks to Arden and Andy's leadership.
For example, Ezra Neer, who both Arden Jr. and Andy fondly refer to as a "brilliant man," began the business making every cent count and building much of his own equipment. That philosophy was passed down to Arden Neer Sr. when he ran the business, and continues to be apparent today. So much so, that Arden Jr. and Andy admit that any time they purchase a piece of equipment, they can hear their father saying, "oh no, no, no boys, what are you thinking?"
And while you might already know Neer's Sand & Gravel and Arden Jr. & Andy (their history can be found here), we hope to highlight a few stories about them that you may not know.
So, we're going to take our customer spotlight story back a few chapters to when Arden Jr. & Andy were just getting out of high school.
When asked if Arden Jr. knew at a young age that he wanted to get into the family business, he responded with an emphatic, "yes!" He recalled being in his high school DECA class and having aspirations of making big money to play in a sandbox for a living. However, once he started, he didn't make the big money he had anticipated and work was not about playing in a sandbox. His father taught him a life lesson about working hard to earn a living, for which he is forever grateful.
Andy's story, on the other hand, was a little different. Andy went to the Wright State University to study business. He found that he loved all the math courses but didn't enjoy being stuck in a classroom. Then, one of his professors gave him an assignment to write a story about something that he always wanted to do. It was that story that helped him figure out his future – when he wrote the entire thing about trucks. He quickly realized that he wanted to be outside, working for his family's business. He came home, and has been running the plant for 20 years – all that time, getting to do what he loves.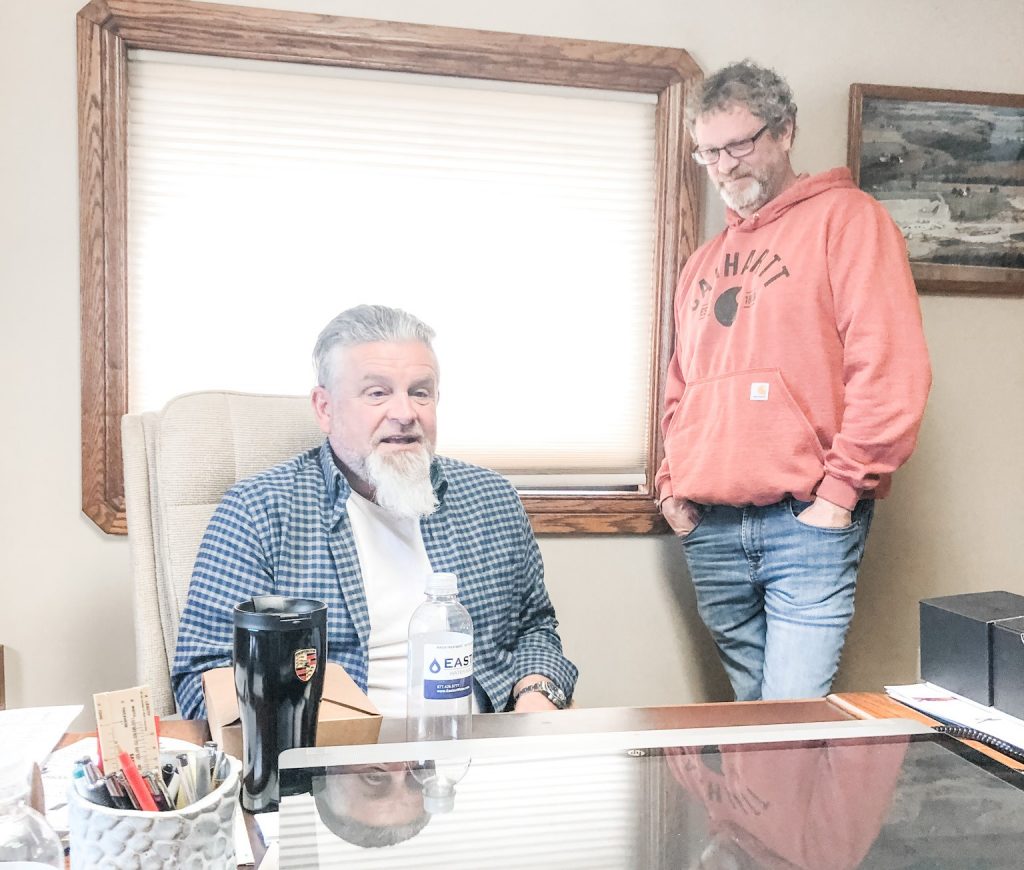 Pictured above from left to right:  Arden Neer Jr. and Andy Neer
Another fun fact, that you may not know is that Ezra Neer, upon opening his business, worked with our founders, Mr. J. Glenn Hill and Mr. Fred Hamilton (formerly known as Hill & Hamilton Insurance) for his insurance needs. That's 94 years and three generations, that our organizations have been working together; 94 years of relationships and life events – a relationship that we are infinitely grateful for.
Now, lets fast forward to 2011
Arden Jr. and Andy were operating partners in the business and continued to have the long-standing relationship with CoverLink that they've had for so many years.
Arden Jr. had been contacted multiple times by an insurance agent offering him a quote. He kept telling him that they were happily insured with CoverLink, and they had no interest in receiving a quote from this other agent. However, the agent wouldn't let up and Arden Jr. eventually allowed him to provide the quote – just to make the barrage of calls stop. Upon receiving this quote, Arden Jr. sent it to Gina Loehr, his long-time Account Manager at CoverLink, for her to review since – as these situations often go – the quote seemed to be quite a bit lower compared to what Neer's Sand & Gravel had been paying.
And further – again, how these types of situations often unfold – once Gina had a chance to thoroughly review this alternative quote, she discovered many of the most important & critical coverages needed to protect Neer's Sand & Gravel had been omitted.  Sure, leaving these coverages out resulted in a lower premium… but at what cost?  What good is an insurance policy if it doesn't cover a claim you thought it would cover?  If the policy you've paid for leaves you hanging during your most desperate time of need?
Bottom line, a cheap policy typically means cheap coverage.  Which means there's a good chance that someone who chooses the cheap policy isn't going to have the coverage they think they do – and they almost always find out at the worst time – when they have a major claim.
Unfortunately, we see situations like this happen all too often. Someone receives a lower quote and they immediately switch their coverage, leaving them vulnerable to a potential claim. But, because Arden Jr. knew that Gina and CoverLink would have his best interest at heart, he sent it to her so he could get her advice on what he should do next.
We probably don't need to tell you that Neer's Sand & Gravel made the decision to keep their coverages with CoverLink so that they'd have the protection they needed should a claim occur…
And wouldn't you know it – the claim did occur.
After deciding to keep his coverage with CoverLink, Arden Jr. found himself in an incredibly difficult situation several years later.  He was sitting at his desk working one day when a delivery truck backed right into his office building, pinning him between his desk and the wall. Thank goodness he wasn't injured, but the same could not be said for the office building.  It sustained significant damage as it shifted the building from its foundation.
Now you would think – given the fact that this delivery truck being a well-known, national company – would quickly resolve this claim given the fact that there was no question who was at fault.  But for some reason, this company decided to make Arden Jr.'s life difficult by forcing him to jump through all types of hoops with the promise to pay the claim if he did, only to continually refuse to pay for the damages their driver caused.
It finally reached the point where Arden Jr. had enough, so he decided to turn to his own insurance coverage for help. Naturally, he called Gina. He explained that he was fighting to have the claim paid by the trucking company's insurance and wanted advice on what to do. And we took action. Thankfully, because Neer's Sand & Gravel hadn't downgraded their insurance policy to the cheap quote they received, CoverLink was able to work with their insurance company to get the claim paid so he could make the necessary repairs to his building. And we didn't stop there.  What the trucking company did to Neer's Sand & Gravel was unacceptable. They were clearly at fault for the damage, and mistakenly thought they could take advantage of a small business by dragging the process out.  Making it as difficult as possible for Neer's Sand & Gravel to get the help they needed to fix their building. So, we made sure that ultimately, the trucking company reimbursed Neer's Sand & Gravel for all expenses associated with this claim so that it wouldn't have an impact on their future insurance premiums.
As we approached the final chapter of our customer spotlight, Arden and Andy talked about where they are today.
Like many of us, they were concerned about the unknowns in 2020 during the pandemic, but Neer's Sand & Gravel had the best year on record. They had trucks running six days a week, were busy all year and they even purchased land for expansion. Needless to say, there's a lot of exciting things to come for Arden Jr., Andy and the entire Neer's Sand & Gravel team!
That's the story of Neer's Sand & Gravel that you may not know. We are so grateful to have worked with them for three generations, grateful to have such a wonderful business in the community, and grateful to call them our friends.