Did you know that a home fire is reported every 90 seconds in the United States?
And further, perhaps even more alarming, the fact that one death occurs every 2 hours & 35 minutes, according to the National Fire Protection Association (NFPA).
In 2016, there were 105 home fire fatalities in Ohio alone.
Fires are common, especially this time of year (i.e. think deep frying a turkey… in the garage on Thanksgiving Day, Christmas tree electrical fires and winter season home heating fires).  Now is the time to review your coverage.
Fire damage is covered by a standard homeowners policy, but you may need extra fire insurance in Ohio for specific high-value items. A Licensed Insurance Advisor can review your policy with you, and show you possible gaps in coverage.
Five most common causes of house fires
1. Cooking equipment is the number one source of home fires and the second leading cause of home fire deaths – usually leaving pots or pans unattended on the stove while you run away to do something for "just a minute." The NFPA says that 47% of all house fires start this way.
Safety tips:
Be alert when cooking and don't leave food unattended
Don't throw water on a grease fire, put a lid on the pan to smother the fire
If an oven fire flares up, turn if off and leave the door shut until the fire extinguishes itself
Keep clothing, pot holders, paper towels and other flammable items away from fires
Keep working smoke detectors in the house, and have a fire extinguisher nearby just in case
2. Heating equipment accounts for 15% of home fires, specifically this time of year. Trying to heat the home with space heaters or chimneys that aren't properly cleaned are the leading causes of heating equipment fires.
Safety tips:
Keep anything that can burn at least three feet away from heating equipment, like the furnace, fireplace, wood stove, or portable space heater
Maintain a three-foot "kid-free zone" around open fires and space heaters
Turn off space heaters and make sure any embers in the fireplace are extinguished before going to bed or leaving home
If you must use a space heater, place it on a level, hard and nonflammable surface (such as ceramic tile floor), not on rugs or carpets or near bedding or drapes; keep children and pets away from space heaters
Make sure your fireplace is properly cleaned and checked before the cold weather season starts.
Keep the fire in your fireplace by using a glass or metal fire screen large enough to catch sparks and rolling logs
Make sure wood and coal stoves, fireplaces, chimneys, and furnaces are professionally inspected and cleaned once a year
3. Electrical distribution and lighting equipment account for approximately 9% of home fires, and can come from a number of different origins. They can be caused by an equipment malfunction, from an overloaded circuit or extension cord, or from an overheated light bulb, space heater, washer, dryer or other appliance.
Safety tips:
Don't overload outlets or electrical cords
Make sure you have the right cord for the job – inside cords for inside, heavy duty/outside cords for outdoor use
Don't leave Christmas lights, Christmas trees, or halogen lights on overnight, or when not at home
Consider having an electrician perform an annual checkup of your home's wiring
4. Intentional fires account for approximately 8% of home fires. The majority of these fires are started outside but still average $1 billion in direct property damage.
5. Smoking materials are on a downward trend, however, they still account for 5% of home fires and are the leading cause of home fire deaths.
Safety tips:
If you smoke, consider smoking outside
Use wide, sturdy ashtrays to catch butts and ashes
Look for cigarette butts under furniture and between seat cushions to make sure no lit butts have fallen someplace where they can't be seen
This one might be obvious, but nonetheless, don't smoke in bed, when you're tired, or around medical oxygen
Other common causes include candles, children playing with fire, and Christmas trees.
Candle fires occur most often during the holiday season, with the most frequent days landing on Christmas Eve, Christmas Day and New Year's Day.
More than half of all candle fires start because of candles that were left too close to flammable items. They should always be kept at least 12 inches away from anything that can burn. Other causes of candle fires include leaving them unattended in a room or someone playing with the candles.
Even something as simple as knocking a candle over when someone bumps a table they're sitting on, or a pet brushing against one, is enough to spark a fire.
Safety tips:
Never leave a candle burning near flammable items
Never leave a candle burning in a child's room or an unoccupied room
Make sure candles fit securing into candle holders so they won't tip over
Blow out any candles before leaving a room or going to sleep
The NFPA says that children start an average of 7,100 home fires per year. Younger children, typically under the age of six, are more likely to start fires inside using matches or a lighter as the ignition source. Older children are more likely to start fires outside.
Safety tips:
Keep matches, lighters and other ignition sources out of the reach of children
Teach children fire safety at an early age
Make sure children have adequate supervision
Like candle fires, Christmas tree fires are more common during the holidays – I know, captain obvious here – but it's still worth mentioning the typical cause:  a dry tree wrapped with electrical lights, combined with a fuel supply (gifts) under the tree.
Safety tips:
Keep live trees well-watered, and dispose of them before they become dry
Turn off tree lights before leaving the house or going to bed
Check lights for any shorts or other electrical issues before putting them on the tree
Here's the rub. You can follow every piece of advice here, and the chances are good that you'll avoid any type of fire in your home. However, even though the risk is greatly reduced, accidents still happen.
The bottom line is that you need to make sure you have enough coverage in the event of a major loss.
Starting with fire prevention is always preferable… after all, no one wants to endure the pain and suffering that results from a major fire loss. But the thought of trying to recover from a fire that destroys your home and your memories – without adequate insurance – is definitely not a desirable situation for anyone.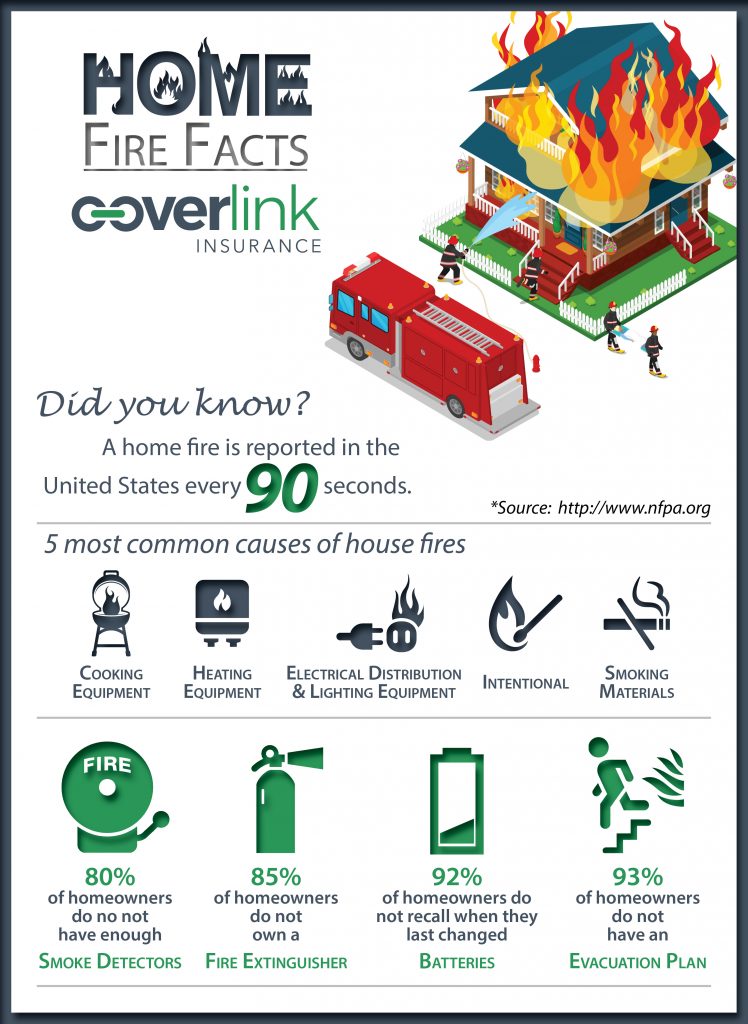 Is Ohio fire insurance necessary?
In short, YES!
Home fires are the leading cause of home destruction in the United States. In fact, one in eight Americans has experienced a home fire.
Fire insurance is a necessary part of your homeowners policy. If you have a comprehensive homeowners policy, fire coverage will be included. However, there are many different providers and policies, therefore a variety of coverage limits, deductibles and exclusions defining what is, and is not, covered.
If your property is insured for actual cash value, your fire coverage may be less than what is needed to replace your damaged structures and items.
You can, and should very seriously consider, insuring your property with replacement value coverage instead. This type of coverage will cover the cost of rebuilding a house similar to your previous one after a fire, and provides funds to replace damaged appliances, clothing, and furniture with new items.
Know what you own
It's recommended that you make an inventory of all your belongings and discuss this information with your insurance advisor.
Pro tip: do a video recording of each room in your home. If you do suffer the unfortunate loss due to a fire, it's much easier to get all your 'stuff' replaced because you did the upfront work of capturing all your belongings on video.
Most policies have caps on coverage for different kinds of belongings, so if you own expensive items such as jewelry, artwork or electronics, you may need to purchase a separate policy (such as a jewelry policy), to provide additional coverage for your valuable items.
What does fire insurance cover?
Your homeowners policy provides the following coverage options to protect your home from fire (check your policy to make sure you understand any exclusions):
Covers the structure of your home
Covers additional structures on your property, including sheds, garages and outbuildings
Insures the contents, or your personal belongings, in each of the structures, including furniture, appliances, electronics, clothes, etc.
Provides for living expenses if a fire displaces you and your family for a period of time, including rent or hotel expenses
Are there exclusions?
An exclusion is something that's not covered by the homeowners policy.
It can be a certain item – for example, a high-value coin collection.  Alternatively, an exclusion can refer to a specific cause of loss… a good example is an earthquake.  Nearly every standard homeowners insurance policy excludes coverage for anything damaged as a result of an earthquake.
While exclusions exist in almost every type of policy, it's not intended to be a bad thing. In fact, most exclusions exist because the coverage is more appropriately provided via a different type of insurance policy.
Take one of the most common questions we get:  if there's a fire at my house, is the vehicle I have parked in my garage covered?
Like most insurance questions, the answer is:  it depends.
If the question refers specifically to the homeowners policy, then the answer is no. One of the exclusions that exists in the homeowners policy relates to vehicles.
Why?
Because coverage for a car is better handled on an auto policy.
So back to our question:  is my car covered if parked in my garage and there's a house fire?
As long as your car is insured, and you have comprehensive coverage included on your auto policy, the answer should be yes, it's covered.
Tips for filing a fire insurance claim
If you find yourself in the unfortunate situation where you're suffering the devastation of a fire in your home, you probably want to know what to do next to get your life put back together as quickly as possible.
In order to handle the claim process most effectively, and get accurate compensation quickly, complete a thorough assessment of the damage and loss.
Here are some tips from H&H to help you along the way:
Check yourself for injuries and get treatment if necessary
Find a place to stay; your local disaster relief service such as the Red Cross can help and provide food and other necessities. Don't forget to find a safe place for your pets
Do not enter the structure until it's safe to do so
Examine the home; talk to firefighters about what can be salvaged
When safe to enter the structure, check for important documents like birth certificates, social security cards, insurance policies and drivers' licenses
Gather as much information as possible, including the date and time of the fire, the cause of the fire, if known, how much of the house was damaged, a list of your lost or damaged possessions, any receipts you may have for expensive items that were lost, documentation of any improvements you made on the house that would affect its value
Notify your insurance company
Keep a log of everyone you speak to concerning the fire; memories get fuzzy and there will be a lot of details to keep track of in the coming weeks
Take pictures of damaged items
Keep track of receipts for expenses such as clothing, medications, meals and lodging
Contact family members and close friends to let them know what happened, especially if you will be moving to temporary housing
Conclusion
Choosing the right insurance company is incredibly important, but even more important is selecting the best insurance agency to service your needs.
When you're buying your homeowners insurance policy, make sure to look carefully at the fire insurance coverage.
Educate yourself about what you're buying.
Does the coverage fully protect your belongings?
Are there exclusions?
Does the policy work for your needs?
What's best for you?
These are all questions that you should ask your Licensed Insurance Advisor, and that individual should most definitely have your best interest in mind at all times.
We're pretty big believers in doing what's best for our clients. After all, H&H has been obsessively protecting and caring for its clients since 1920. We believe that people are more important than policies, and that's how we think our clients should be treated.
To review your homeowners policy and fire risk, contact one of our Licensed Insurance Advisors today… We're here to help!