Companies need safe and working equipment to operate efficiently and generate revenue. In fact, some organizations rely exclusively on a few pieces of equipment to run their entire business. Following a breakdown, major losses can occur, and many organizations turn to equipment breakdown insurance (sometimes referred to as boiler and machinery insurance).
Equipment breakdown coverage is a form of property insurance designed to protect a company's mechanical, electrical and computer equipment from unexpected breakdowns. These policies are flexible, and help organizations recoup losses related to property damage, business interruption and spoilage. In addition, these policies offer organizations the following benefits:
Repair cost coverage. Following an equipment breakdown, organizations may have to pay thousands just to get their business up and running again. Equipment breakdown insurance can help soften the blow, reimbursing organizations for the cost to repair or replace damaged equipment due to an accident.
Expediting expenses. Repairing complex equipment in a hurry can be an expensive endeavor. Most equipment insurance policies cover any expenses needed to speed up the repair or replacement of damaged property, including the cost of temporary repairs.
Protection against business interruptions. Virtually in all cases, an equipment failure disrupts a business. In some instances, these disruptions are quantifiable, leading to lost revenue and productivity. Equipment breakdown insurance covers some of these costs, including income lost as a result of a covered accident. What's more, this protection is in effect until the equipment is repaired or replaced.
Coverage for perishable goods. Following an equipment failure, food related businesses experience some of the most direct losses. Food industry equipment is not only expensive to repair and replace, but businesses can lose thousands of dollars worth of product if a freezer or refrigerator fails. Thankfully, equipment breakdown insurance provides adequate protection and can cover food spoilage, manufactured goods or other perishable items after a covered incident.
Want to learn more about Equipment Breakdown Insurance? Check out our video for more information.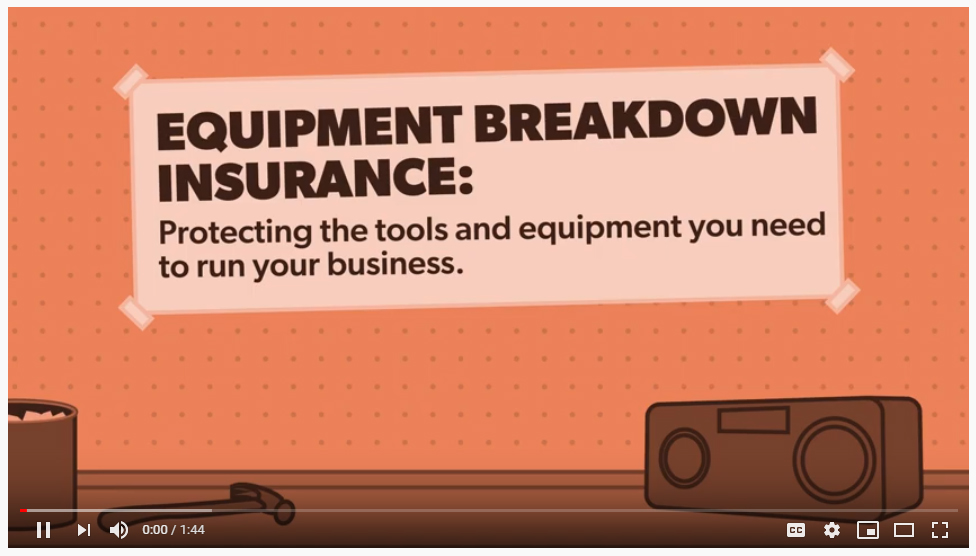 Problems with your equipment can be extremely risky if you're not properly insured. Consult with a qualified insurance advisor today to learn more about equipment breakdown insurance. Doing so will help your business combat costly, and often unpredictable problems that you may face.